Introducing Search Terms – Amazon Advertising 
Amazon has rolled out a new feature in the Advertising Campaign Manager called Search Terms. Essentially, search terms has already been around for a significant period of time and could be located within downloadable advertising reports. These reports generally contain a large degree of data and can be time consuming to sift through. Before we delve into how this new feature can help your advertising campaigns, we must first discuss what search terms are as there can be confusion between what a search term is and what a keyword is. They both appear very similar, but there are significant differences that we will discuss below.
Customer Search Terms
A customer search term is the word(s) or phrase(s) that the customer enters into the Amazon search engine. Below is an example of a customer search term.



As one can see the phrase "bbq glaze sauce" is the term the customer entered into Amazon's search engine.
Keywords:
Keywords are important phrases and words that Amazon sellers research and use in advertisements. Essentially, keywords are what help customers to the merchants product on Amazon.com. Keywords are what defines a product through the Amazon platform and marketplace. When you create your advertisement on Amazon you will add keywords that are relevant to your product. Please see the example below for this product: Momstir Sweet Heat Marinade & Hot Sauce for Gourmet BBQ, Grilling, Ribs, Oven Roasting Chicken, Pork, Beef, and Anything in the Kitchen (20 oz)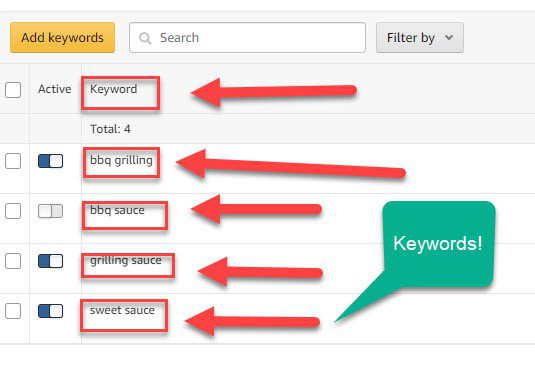 Amazon Search Terms Tool
Now that we know the difference between search terms and keywords, how exactly does Amazon's Search Terms Tool assist the merchant?
It is easy to use. No longer does one have to sift through excel sheets with large amounts of data. One can now easily find which keywords are performing the best based on search terms.
You can easily sort by the number of clicks per term, the amount spent per term, orders per term, sales per term, and ACOS per term. There are also a variety of other variables in which you can filter a search term by.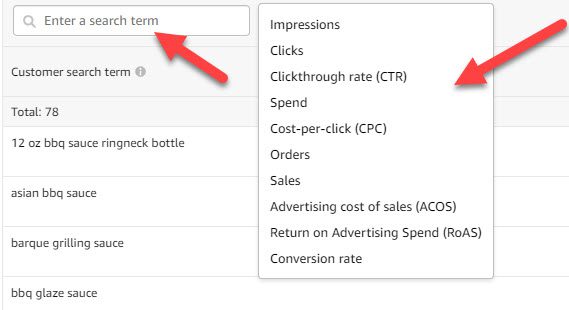 You can find keywords that are performing well, and keywords that may be causing unnecessary spend and inflated ACOS. Once you find this information you can easily add unneeded keywords/search terms into negative targeting to block that search or increase the bid on a keyword if it is performing well.
For example: If you have a product named:  Momma Shark Needs a Drink Do Do Do Do Funny Novelty Libbey Stemless Wine Glass with Sayings – Gift for Moms, Birthday, Christmas, Mother's Day Gifts
The search terms tool may show that a large amount of searches that hit your keywords was from something broad such as gift for mom. If this is creating a lot of spend, but low conversion this tool just helped identify a keyword that can be blocked, which will save your company money! In fact – Amazon encourages this practice! Please see the link below:
How to Access Tool
To access the new tool please follow these steps:
Go to your Seller Central Main Page.
Under Advertising click on Campaign Manager.
Under your active campaigns – click on the one in which you want to find the search terms for.
4. Once you click on the campaign – you will need to click into the ad group.
5. Once there, one will find the search terms tab.
For further information about Amazon Advertising please view some of our other articles on MyAmazonGuy.com!