Recently we've seen campaigns where we have chalked full of keywords, have been getting fewer impressions, versus campaigns with less keywords. Our agency strategy has been to put in hundreds of keywords, use all 3 match types, let the algorithm do its thing, and double down on what works and slough off what doesn't. This strategy no longer works with recent changes.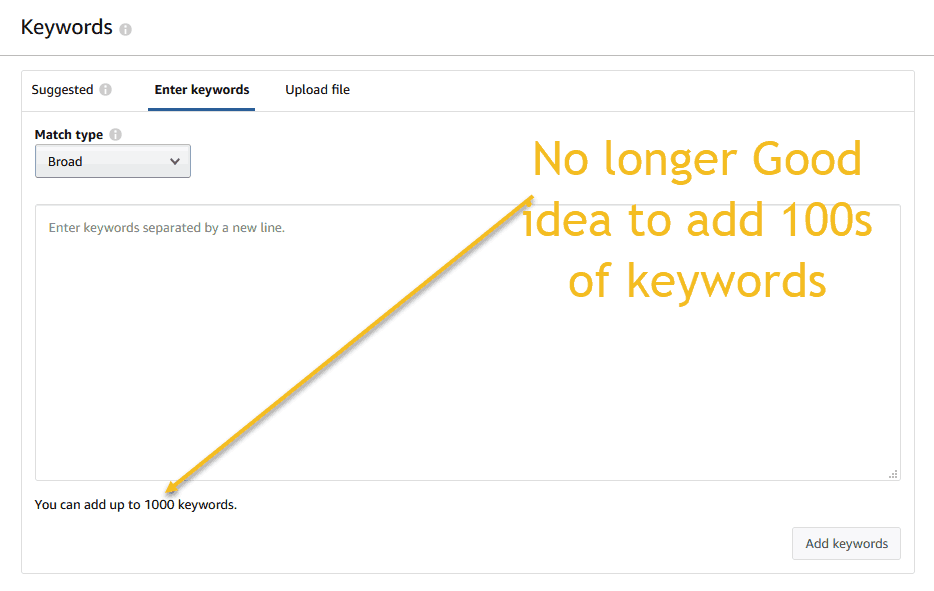 When it comes to the performance of an ad, it's not about the quantity of keywords added on a campaign, but the quality of them. It's better to invest higher on keywords that are more relevant to the item being advertised than a lot of keywords that are not relevant at all. This is because you might have many keywords that are pretty similar between them but not all of them will work because these are considered as "duplicate keywords". It's better to add keywords that are directly relevant to product (meaning that they must be keywords that are added on the items detail page) and bid high on these particular keywords to increase the chances of better visibility.
When you have duplicate keywords (using the same words), they will compete against each other and even blocking the traffic of those potential keywords that could help the campaign perform better. Hence the importance of the match type as this helps you to fine-tune which shopper search queries your ads are eligible to show against.
You may want to set up a keyword as Phrase or Exact match if, for example, the keyword is related to your item but also happens to be too general or easily confused with another type of product or with a different use because of a close variation. Otherwise, we recommend you to go with Broad so that way your keyword will be more accessible and will cover misspellings and related variations. Consequently, you won't have to repeat the keywords.