In this video, we will be talking about the Amazon Brand Registry. This will be a comprehensive A-to-Z guide – from the trademark registration with USPTO (United States Patent and Trademark Office), and how to open up a Brand Registry on Amazon, to an overview of every feature that you can get access to with Brand Registry.
Amazon Brand Registry – Summary
In the ever evolving landscape of eCommerce and Amazon Selling, the release of Brand Registry on the Amazon platform really allowed sellers to raise the bar, not only for sellers, but also for Amazon. Previously, Amazon would give features to sellers that were much smaller companies, that now they only give to brand registered accounts. Becoming Brand Registered allows sellers to access unique features such as:
1. Amazon Storefront:
You can have a vanity URL. For example: www.amazon.com/momstir
You can create dedicated landing pages. It functions as a website. 
 2. A+ Content for Listings
     Example of A+  Content: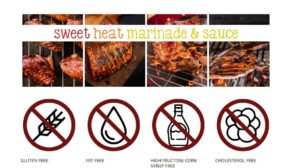 A+ content is a great SEO tool. It truly helps index keywords. 
Use product grids.
Use as much text as possible. 
Use Alt-Text on photos. 
We also offer this as a service. 
For $500 we will build you a fully launched A+ content, copyrighting, keyword research, etc. 
3. Infringement Reports: If you have a trademark that is commonly used, you can report infringement through the infringement page. You can access this page at amazon.com/report/infringement
4. Access to the Brand Dashboard and Brand Analytics. The Brand Dashboard allows sellers to access several features which help in optimization of listings, keyword research, and more. 
How to get Brand Registered – Step by Step
 To be brand registered on Amazon, you must have a legal trademark. Typically, sellers would receive their trademark through the United States Patent and Trademark Office, and you will then submit your trademark registration number to Amazon when filing your Brand Registry through brandservices.amazon.com in the registration process. 
Please note that if you do not have your trademark, My Amazon Guy offers this service. Simply go to the link below and we will take care of the filing and paperwork. Our cost is a one time $775.00 fee. My Amazon Guy Trademark Registration
 3. If you are not sure if your company has a trademark, please follow the steps below to find out. 
    Go to https://www.uspto.gov/trademarks-application-process/search-trademark-database
Click "Search Trademarks" (lands you at http://tmsearch.uspto.gov/bin/gate.exe?f=tess&state=4810:tt6qdr.1.1)
Click "Basic Word Mark Search (New User)"
Type the name of the brand or trademark in, it is case sensitive.
Find the live trademark in question to find the needed information
 Please view another article from My Amazon Guy which goes more in detail on this subject and provides an informative video:
4. Once your trademark is in place go ahead and get started with brandservices.amazon.com 

5. The first thing Amazon will ask for is to create a brand services login. We suggest using the admin login from your Seller Central Account. You will save yourself a good deal of trouble to keep these logins uniform. 
6. To find out whether you are using your seller central login: 
Go to settings.
Go to user permissions.
You will see one login does not have delete next to it. This is the admin login that needs to be used. 
7. Moving forward, on the next page after your Brand Registry account is created, and after clicking getting started you will chose the country that you want to be Brand Registered for. In our case it would be the United States. On the next page you will click Enroll a new brand as shown below.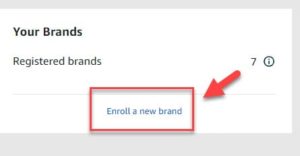 8. On the next page, Amazon will ask a series of questions regarding your trademark and brand. There will be three sections to fill out. 
Brand Information
What is your brand name?

Enter the name of the trademark

Select a Trademark Office

Select

United States – United States Patent and Trademark Office

 

Please enter the registration or serial number Enter the Serial Number of the trademark 
Product images Upload an image of the product with the trademark on the packaging on product itself
Selling account Information
Are you a seller or a vendor for the brand you're enrolling? Seller
Please provide the categories which best describe your brand Use the search bar to find the category that matches your brand
Distribution information
Does your brand sell to distributors? No
Does your brand license trademarks to others who manufacture products associated with your intellectual property? No
9. Once you finish, click submit. You brand registry application is now filed!
10. Amazon will send an email to the person who owns the trademark.
11. If you used a lawyer, Amazon will send the email to the lawyer. 
12. There are two steps from here to finish your brand registry: 
Whoever owns the trademark must respond directly to Amazon stating that they give permission for the trademark to be used in "such in such fashion". 
 In this email, there will be a verification code sent. This code must be provided to Amazon through the Brand Registry case through Seller Central. To access your case log, go to the Amazon Seller Central homepage, click help on the top right corner of the page, scroll down to the bottom and click launch case log. 
If done correctly, your Brand Registry should be approved within 24 hours. 
13. You can verify whether your Brand Registry worked by following these steps: 
Go to your Seller Central home page. 
Hover over the stores tab. 
If you see your brands and your store name as shown on the image below, you will know that your Brand Registry is ready.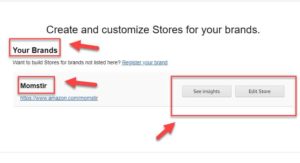 Conclusion:
We hope that our guide on Amazon Brand Registry has been helpful. As always remember to go to www.myamazonguy.com and we will help you out with any eCommerce related issue – large or small!