Amazon Merchant Token ID – What is it?
The Amazon Merchant Token ID is an important identification number for Amazon Sellers. It is a way for Amazon to be able to uniquely identify each one of its third party sellers.  The Amazon Merchant Token ID allows you to access Amazon's extensive Marketplace Web Service (MWS). MWS is an API that connects your third party selling account to a variety of third party software and applications, which are designed to assist and enhance your selling account.  There are also other applications such as the Amazon Merchant Transport Utility, Seller Desktop, and XML feeds which require your Amazon Merchant Token ID. 
Video: *Coming Soon*
API Function Examples: 
Repricing Software
Shipping Software Platforms
Content Management Software
Inventory Management Software
Amazon Pay
Integrating your external shop with your Amazon store.
SellerDesktop 
Amazon Merchant Token ID and the Amazon Merchant Transport Utility (AMTU):

Amazon's AMTU system allows for easy file transfers and receiving reports. Your Amazon Merchant Token ID will be needed for this service. 
 Seller Support:


Your merchant ID is also required in certain situations in which you engage with seller support, to help verify your account, set up tax information or exemptions, and more. It is always good to know what your ID is and have it on hand just in case you need it. 
Amazon Merchant Token ID – How to Obtain it
Now that we have gone over the basics of your Amazon Merchant ID, we will discuss how to obtain this information.
We have a video below showing how to obtain it, and a step by step guide.
To find your Amazon Merchant Token ID,  you will logon to your Seller Central dashboard or home page.
You will go to your Settings drop down menu on the top right side of the page and and click Account Info.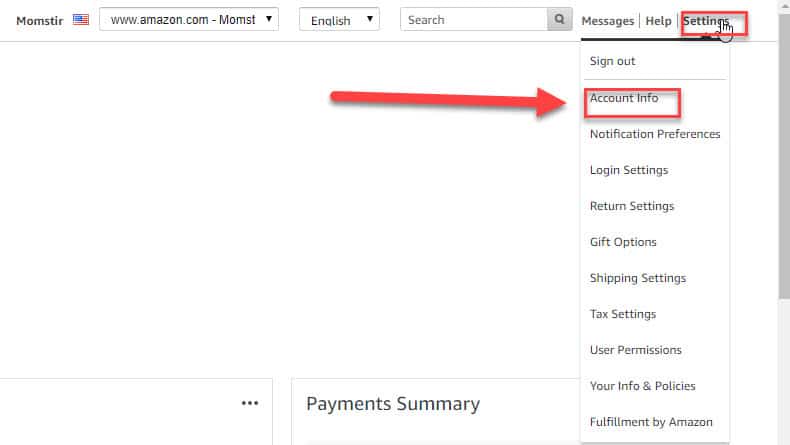 3. Once on the Account Info page you will find the Business Information Box and click on the Merchant Token link. Once you click this link Amazon will display your unique Merchant Token. Given this token is unique to each account it should be treated as sensitive information.

4. That is it! You now have all the needed information to obtain your Amazon Merchant Token.
    Frequently Asked Questions: 
1. Where is the Amazon Merchant Token ID used? Seller Desktop, AMTU, 3rd Party Applications, and XML feeds. 
2. Is my Amazon Merchant Token ID unique? Yes, each merchant ID is unique to the seller. 
3. Where can I find more information regarding my Amazon Merchant Token ID and Amazon MWS? 
Source: https://docs.developer.amazonservices.com/en_US/sellers/Sellers_Overview.html
4. Is the Amazon Merchant ID all I need to set up these accounts? No, there are several other tokens and IDs needed, depending on the applications requirements. You will also need a professional selling account. 
5. Can I share my Amazon Merchant Token ID? No, sharing MWS access keys is a violation of Amazon's Terms of Service and can lead to seller suspension.