Get Brand Registry on Amazon within 7 Days by Purchasing a Trademark from My Amazon Guy today.
Get Your TM Serial Number from us within 1 business day.
Remove Hijackers in Canada, which starts working within 24 hours of order using the serial number!
$850 total pricing: Includes CIPO filing fee, TM research, and any follow-up communication.
This is the template we are using to report the unauthorized seller. https://brandregistry.amazon.com/brand/report-a-violation
It has come to our attention that the seller "put the seller names" is selling counterfeit using our Trademark protected brand name.
Serial number: "put your trademark serial number"
Our trademark can be seen here: "select your website"
Please remove these sellers "name of unauthorized sellers"
Use this link for you to be directly routed to https://brandregistry.amazon.ca/brand/report-a-violation
select the ASIN on the search box. Click show offers and you will see all the active sellers who are selling the listing. Click the checkbox for those names you want to report. Then select the issue type you can choose copyright infringement or trademark infringement.
Join our Channel to get early access and say thanks to Steven Pope for putting out all the content: https://www.youtube.com/channel/UClUSEsDS2sdgNJfCcCM_5Uw/join
About Steven Pope: Steven is the founder of My Amazon Guy. He started his career as a TV reporter in Idaho, then was an eCommerce Director for 10 years for brands ranging from Gold & Silver Coins to Women's Plus Size Clothing. Steven created My Amazon Guy because of how difficult it has become to grow sales on Amazon. Steven owns MAG, My Refund Guy – a clawback FBA service, and Momstir – a Private Label FBA Wine Glass brand with the #1 funny wine glass on Amazon. He has more than 600 tutorial videos on YouTube showing how to handle ANY problem faced on Amazon. Steven also hosts a podcast with interviews from other Amazon experts.
LinkedIn // Degrees: MBA and BS In Communications. Amazon Advertising Sponsored Ads Accredited.
About My Amazon Guy: An 160+ client full-service Amazon Agency in Atlanta, Georgia. We growth hack sales through traffic and conversion improvements. PPC, SEO, Design, Catalog Merchandising, and more all in-house.
My Amazon Guy Podcast and Videos:
Podcast.MyAmazonGuy.com
YouTube.com/MyAmazonGuy
Website: MyAmazonGuy.com
Other Social Media links:
https://www.facebook.com/myamazonguys/
https://www.linkedin.com/company/my-amazon-guy
https://twitter.com/myamazonguy
✅Get 50% off First Month with Helium 10
https://cc.helium10.com/?crsh_reqid=2355317&aid=427&pg=1
✅ Order a Trademark from My Amazon Guy for $775 and get your brand registry on Amazon in under 7 days. Order here: https://myamazonguy.com/trademark-services/
✅ A+ Enhanced Brand Content https://myamazonguy.com/amazon-enhanced-brand-a-plus-content/
✅ Beginner Tutorial Playlist: https://www.youtube.com/playlist?list=PLDkvNlz8yl_bC5ERcdJm9mu_MLSTyl3e_
✅ Coaching on Demand (Same day Appointments Available): https://myamazonguy.com/book-a-coaching-call/
#amazonselling #amazonseller #amazonfba #myamazonguy
🎤My Podcast Setup:
Rode NT1KIT Cardioid Condenser Microphone https://amzn.to/39aCRWb
Rode Swivel Mount: https://amzn.to/31daD8T
RODECaster Pro Podcast Production Studio https://amzn.to/3cghWCM
Sony Alpha a6400 Camera https://amzn.to/31bTFYi
Sigma 16mm Sony E Lens https://amzn.to/3lQxAZ0
VIDEO TIMESTAMP
00:00 – My Amazon Guy
0:21 – Undercut price & Ships from China
1:27 – What I learned // Brandregistry
1:52 – Clearing out Hijackers
2:15 – ASIN // Report a Violation
2:55 – Canadian TradeMark
4:34 – Put in Serial Number
5:10 – My Amazon Guy Services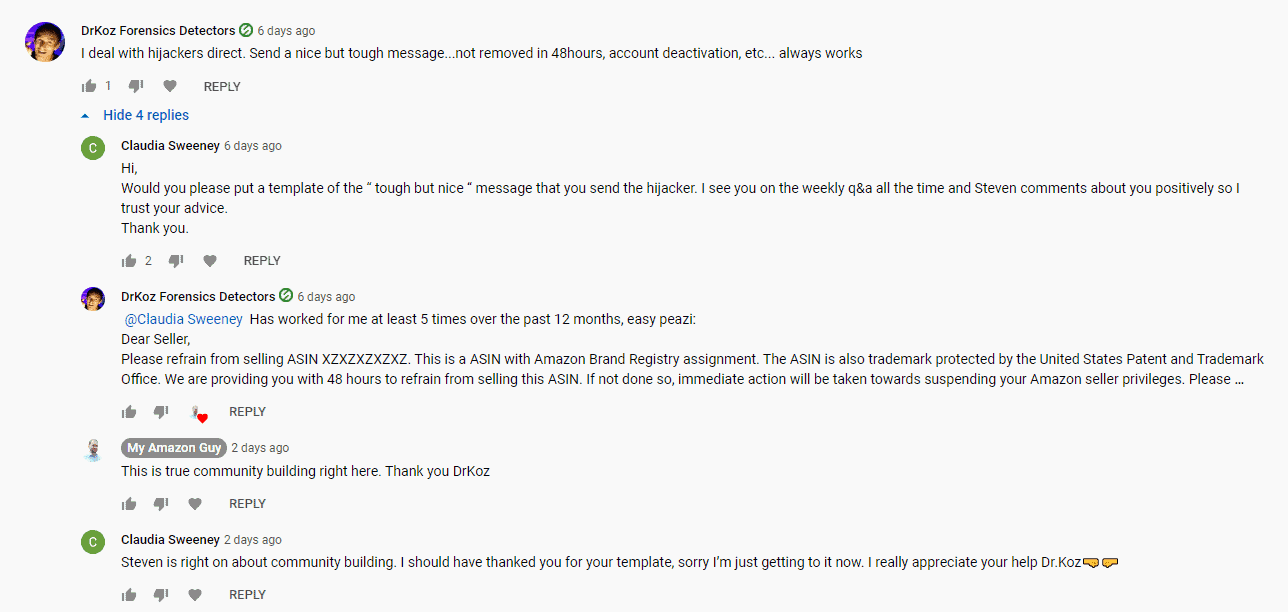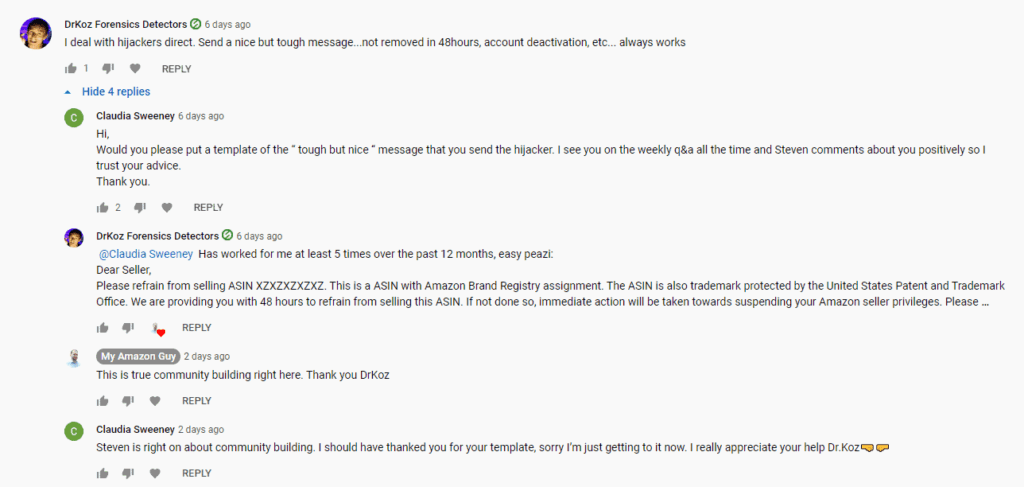 VIDEO COMMENTS 
DrKoz Forensics Detectors
"I deal with hijackers direct. Send a nice but tough message…not removed in 48hours, account deactivation, etc… always works"
Claudia Sweeney
"Hi,
Would you please put a template of the " tough but nice " message that you send the hijacker. I see you on the weekly q&a all the time and Steven comments about you positively so I trust your advice.
Thank you."
DrKoz Forensics Detectors
"@Claudia Sweeney Has worked for me at least 5 times over the past 12 months, easy peazi:
Dear Seller,
Please refrain from selling ASIN XZXZXZXZXZ. This is a ASIN with Amazon Brand Registry assignment. The ASIN is also trademark protected by the United States Patent and Trademark Office. We are providing you with 48 hours to refrain from selling this ASIN. If not done so, immediate action will be taken towards suspending your Amazon seller privileges. Please confirm when done. Thank you."
My Amazon Guy
"This is true community building right here. Thank you DrKoz"
Claudia Sweeney
"Steven is right on about community building. I should have thanked you for your template, sorry I'm just getting to it now. I really appreciate your help Dr.Koz🤜🤛"